I am the proud owner of a fully restored 1991 Mini Cooper. My dad bought the car for me late 1999, so I would have some transportation during a half-year internship in Great Britain. The car was British Racing Green at the time and after returning to the Netherlands I continued driving her.
The car is one of the last Coopers with a carburettor, at the end of 1991 the first Coopers with Single Point fuel injection were introduced. After having driven the green Cooper for about three years and having upgraded her modestly with such things as a K&N air filter, a Moto-Lita steering wheel and 5J12 Minilite rims (there's a picture on Flickr as it was back then), I decided it was time for a more radical approach. So, in the winter and spring of 2002/2003, she was completely restored. I did the stripping myself, and had a lot of help from my dad, who also thoroughly cleaned many of the old parts until they looked brand new again. Because the Cooper was my daily driver at the time, which meant I didn't have all the time to do it myself (including learning to do everything), I payed a company some serious money to do the build-up. A set of pictures about the restoration is available on Flickr.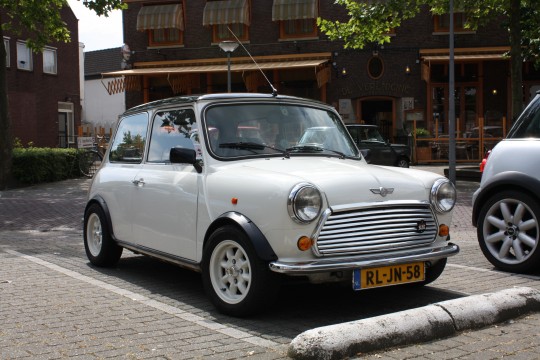 Unfortunately, I have gone through a lot of trouble with the car after the restoration. The engine was under-performing from the get-go and only after the head was taken care of by a knowledgeable amateur (the word amateur is not at all meant to sound negative) has it produced power figures that make sense for this kind of setup (i.e. around 77 bhp). You can read all about it in various blog posts I have written on the subject. I also feel the paint job is sub-standard. The best thing would probably be to take it apart again some time, and get it a proper paint job, although now that the car is living indoors for most of the time, there really is not a big need. To make a long story short, I wouldn't hire a company to do a restoration very soon again.
Engine
Overhauled 1275 '91 Cooper lump
Rebored to 1293 cc
SirYun-modified cylinder head (29mm in, 35mm exhaust)
Kent 276 cam
Duplex timing gear
Single SU HIF44 carburettor.
K&N cone air filter
Maniflow LCB exhaust manifold
JanSpeed single center exit exhaust end pipe
Standard inlet manifold (MG Metro-spec), flowed
MiniSport 1:1.5 ratio roller-tip rockers
13-row oil cooler
78 bhp (@crank, confirmed on a rolling road)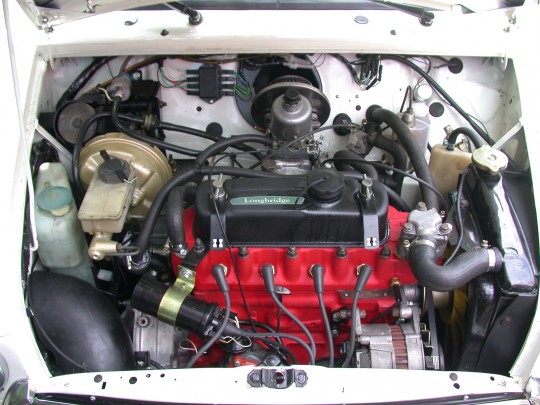 Gearbox
Standard manual gearbox
Central oil pickup
3.1:1 diff
Non-verto clutch
Lightened flywheel
Brakes
Front: standard 8.4 inch discs
Rear: MiniSport Superfin alloy drums
EBC Green Stuff pads
Suspension
Dry rubber cones
Hi-Lo adjustable ride height rear
Red Koni dampers all round
MiniSport adjustable tie-bars
MiniSport rear camber brackets
Wheels/tyres
White 5x12 inch Genuine Minilite wheels
Yokohama A539 165/60R12 tyres
Exterior
Rover Cooper shell
Rover Cooper look, including round grill, standard three color rear lights
White Diamond
Black roof
Black wing mirrors matching roof to continue Rover Cooper theme
Matt-black special wheel arches, again to continue Rover Cooper theme
Chrome grill (internal release), bumpers (original Special items), doorhandles, boot-lock, roof aerial
Color-coded number plate light housing
Interior
Newton Commercial carpet set
Cobra reclining seats, type "Le Mans", black leather
Rear seat retrimmed to match front seats
Door cards retrimmed to match seats
Moto-Lita steering wheel with black leather rim, matching aluminium doorhandles and window winders
Burr walnut dashboard
John Cooper signature alloy pedals
"Mini Cooper" four-piece overmat set.